FREE Shipping with all purchases over $75
The Midsummer's Sage Bundle includes:
(1) One 100% Pure Essential OIl Blend
(1) One All Natural Face Mist
A beautiful blend that Cleopatra would have coveted, Midsummer's Sage promotes feelings of peace & supports overall wellness.
Locally bottled in Vancouver BC by Fern & Petal
Ingredients:
Face Mist - purified water, witch hazel, rose water, aloe vera extract, blend of essential oils (clarysage, ylang-ylang, frankincense)
Rose Water revitalizes skin and hair
Witch hazel brightens and cleanses the skin
Aloe Vera promotes moisture balance in the skin
Essential Oil -  clarysage, ylang-ylang, frankincense
Benefits:
Clary Sage: Often referred to as the "women's oil" for its balancing effect, this floral scent is both uplifting and relaxing. Clary Sage can help support hormonal imbalances, reduce symptoms of headaches, and relieves muscle aches and pains.
Ylang-Ylang: With a sweet floral scent Ylang-Ylang is calming and has an uplifting effect on mood, relieving tension and stress and promotes self-confidence.
Frankincense: With a deep, yet fresh aroma, Frankincense is known as the "king of essential oil".  It is anti-inflammatory, encourages sleep, eases anxiety and boosts the immune system.
How to use: 
Face mist - Spray anywhere that needs a little extra refreshing. Mist on linens, hair, face and body.
Essential Oil - Adults: add a few drops to a diffuser or add 3-4 drops to 10ml carrier oil for topical application. Add a few drops to dryer balls for extra fresh smelling laundry!
*Get FREE SHIPPING with a $75 purchase.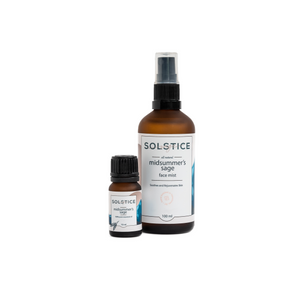 Our Newest Collection
Our newest scent is lavender. Both our essential oil and mist have many purifying & healing properties. The species of lavender used in our 100% pure essential oil is Lavandula angustifoli which has the best therapeutic properties for sleep
Beautiful Blend
Discovered the Midsummer's Sage while at the osteopath with my son. He was having trouble settling and I was getting stressed so I tried a few spritzes of the spray and applied a drop of the blend to my son's shirt. We both immediately calmed and fell in love with the scent (even though we are normally a scent free home). I ordered it as soon as I got home. Everything was beautifully packaged and done with care. I would highly recommend the product and shopping with Marci who's been wonderful as well!
LOVE
The scent from the oil and face mist are absolutely amazing! I have been using the facemist multiple times daily for a quick refresh and also on my bed sheets and pillows. The oil provides my home with a calming and relaxing scent (which is nice with three young boys running around!) I also use the oil on my dryer balls when doing laundry and bedding in the wash and it leaves them smelling so clean and fresh!